Information

General Information!
Once you have downloaded and installed the FilmProCaS application, it is IMPORTANT that you read and agree to the Terms of Service and Privacy Policy. After that, you can log in to the application.
It is important to note that you subscribe to the application for 30 days per month and you can use it on 5 devices. Your subscription will be renewed every 30 days unless you cancel. Also, it is important to know how and with what encryption we store the data and photos you enter.You can also read about your obligations regarding the use of the application. Please read both documents carefully, which you will also find at the bottom of this page!
Differences between the Demo and the Subscribed Application
After downloading and installing the app,it will launch the Demo mode automatically. The Demo mode shows a Demo Project,the script for the Demo short film Control (of Death), through which the knowledge of CinProCaS® can be viewed.
FilmProCaS Demo mode allows you to change the properties of the project, insert a new photo, draw or experiment with the project, enter any text, but it does not save the changes. If you like the app, you should subscribe for 30 days, because you can create and export an unlimited number of projects and an unlimited number of Script pages in PDF format for 30 days. You will receive occasional updates during your 30 day subscription. The application also works in offline mode, if you are in a place where there is no internet, but it checks the existence of the subscription from time to time, in which case please go online. Your subscription will be automatically renewed, you have nothing to do with it. In the event that you no longer wish to use your subscription, you may cancel your subscription within the application. If you are not online on day 30 or have canceled your subscription, the app will alert you for 3 days
and then it will switch to Demo mode. You will see your projects for 14 days, but you will not be able to modify them, and you will not be able to create new projects. If you do not renew your subscription for 14 days, your projects will be deleted from your device. If you do not renew your subscription for 6 months, all your projects and subscription email addresses will be deleted from the cloud after 6 months. If you re-subscribe within 6 months, you can re download and re-edit your projects from the cloud. Please read the Term of Service and Privacy Policy.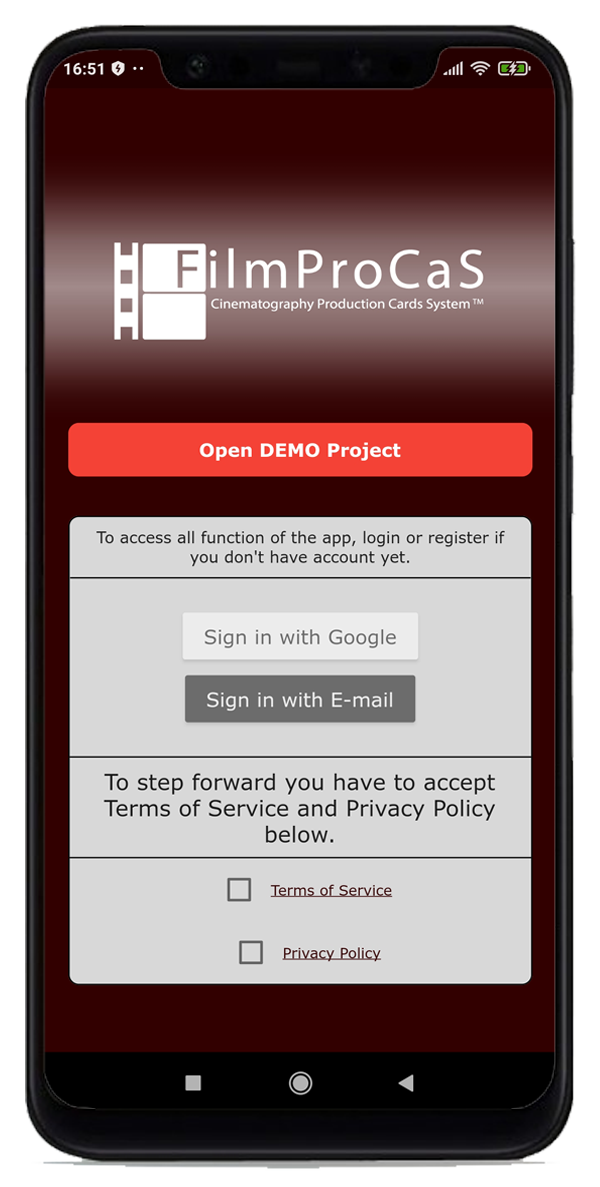 A CinProCaS Inc.
CinProCaS Inc is an officially registered company in the United States that creates, rents, and subscribes to film preparation applications and software. The CinProCaS® Cinematography Production Cards System® and the FilmProCaS application are officially registered and protected applications, brand names and trademarks. Logos are displayed on each page of the applications.The legal display at the bottom of the page provides protection for the appearance. Displaying the email address for the content at the bottom of the page provides copyright protection for the content owner.It is worth registering with your own official email address, because then the content also enjoys legal protection against others.The Script No. page created in the FilmProCaS application can be exported as a .filmprocas file, which can be imported into the CinProCaS® application, where you can further develop the designed film.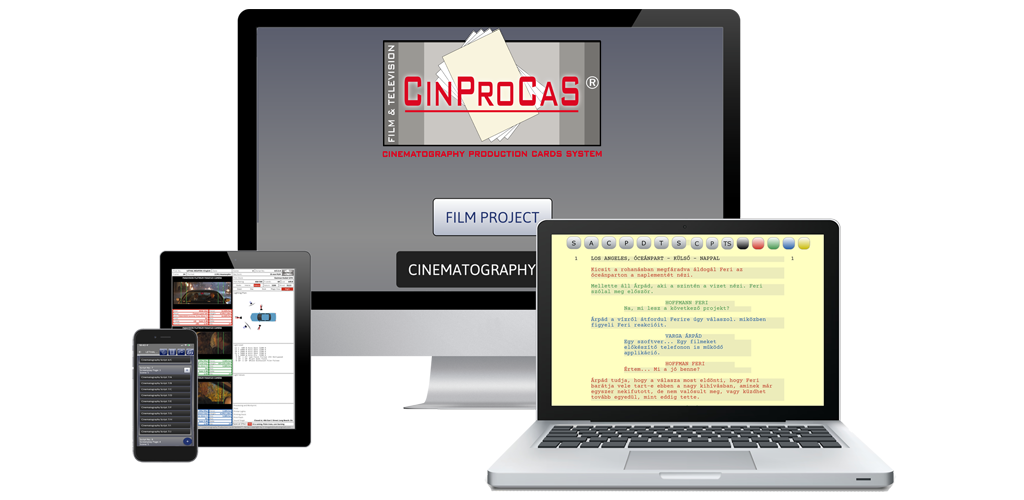 Learn what and how we handle data!
…
Familiarize yourself with the terms of the user agreement
…